Recently, I attended a networking event at Home Restaurant in Buckshaw Village, where I had the pleasure of meeting lots of fellow small businesses. Public speaking has always been something I have avoided, it's up there with my biggest fears in life, however this was wonderful chance to network and learn more about likeminded local businesses and give support from one sustainable small business to another.
I faced my fears and enjoyed the experience, apparently I did a "brilliant presentation", talking about the origins of Valley Mist and some of the difficulties we have faced. Plus, of course, all about the sustainable beauty products we make at Valley Mist here in Leyland, Lancashire.
It is here where I met Paul, the co-founder of a local personalised baby gifts business called That's mine. It turns out that I had bought some of their baby gifts when they first started the business from their home. I was delighted to hear all about the steps they have taken towards expanding their personalised ranges with recycled teddy bears.
Shop Sustainable Baby Gifts at That's mine
At That's mine they understand the responsibility to care for our environment and make the best sustainable decisions. They are striving to meet a goal to create and supply personalised gifts for their customers, whilst doing their best to put the environment first.
Keel Toys – Keeleco Personalised Baby Gifts
Keel Toys are one of the largest designer, importer and exporters of soft toys in the UK. Established in 1947, Keel Toys is a third generation, family run business; under the directorship of brothers, Richard, David, John and James Keel. They continually strive to maintain this impressive position, developing relationships with their customers built on trust, excellence, quality of service and innovative design from their in-house team.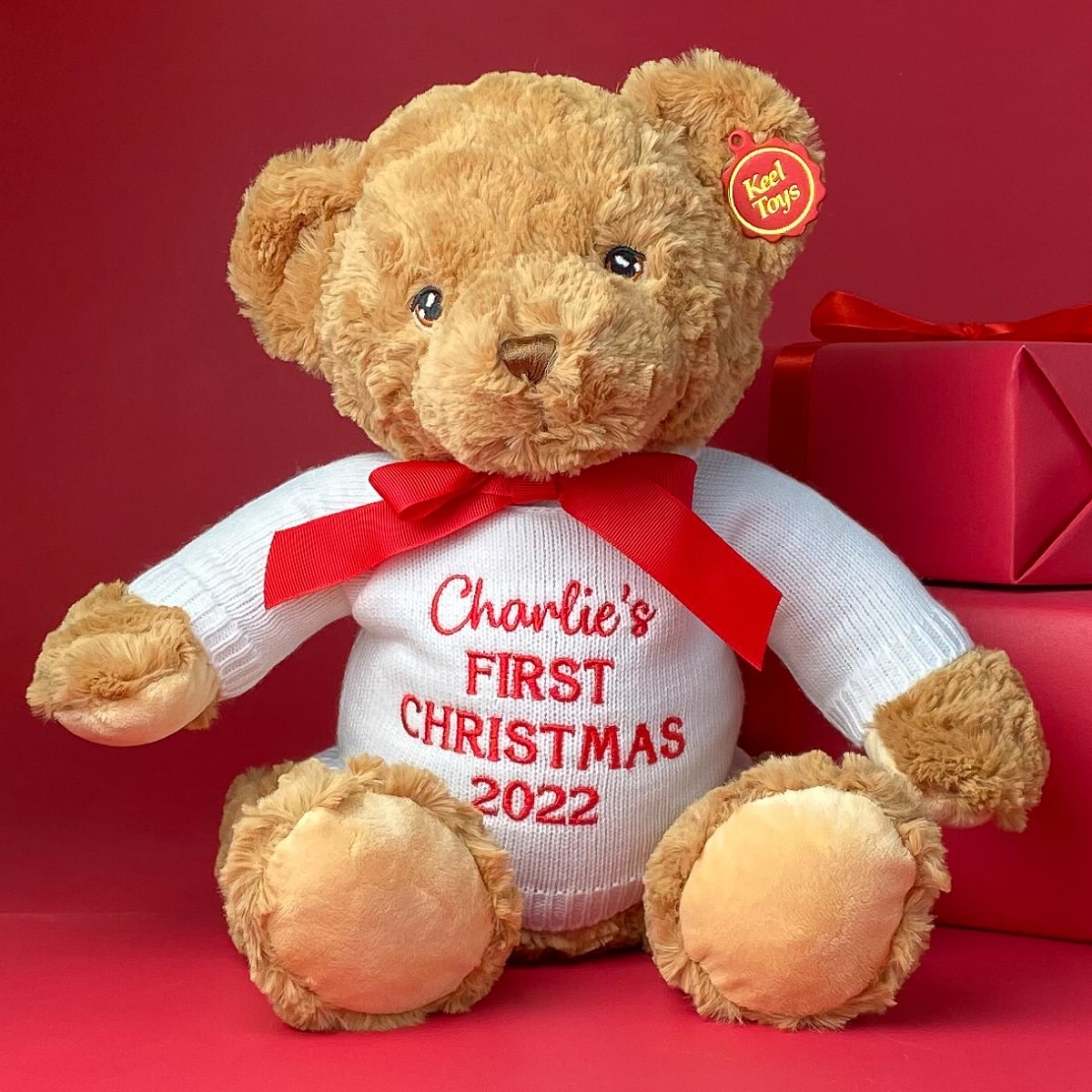 That's Mine now off the very popular Sherwood bear and the 100% recycled Keeleco 'eco friendly' bear in their range of teddy bears. All bears are personalised with their exclusive That's mine embroidered jumpers.
Keeleco – The Eco Teddies
Keeleco is the 100% recycled range from Keel Toys. Did you know these eco-friendly toys are manufactured and stuffed with 100% recycled polyester from plastic waste? Weighted with recycled glass beads; perfectly designed for hugging by a loving new friend.
What makes the process eco-friendly?
Single use plastics are a big no no, so to reduce the amount, Keeleco obtains bottles and other plastic waste and magically turns it into these cuddly soft toys. How is this done, you ask? Well, firstly they use recycled polyester; obtained by first collecting plastic waste and cleaning it. Clean bottles are then shredded, and crushed and this forms pellets. The pellets are melted to create yarn, and the yarn is spun to create thread. Then, the thread is woven to create the base fabric. Therefore, giving plastic bottles a second life! Also, this process uses 59% less energy than creating virgin polyester.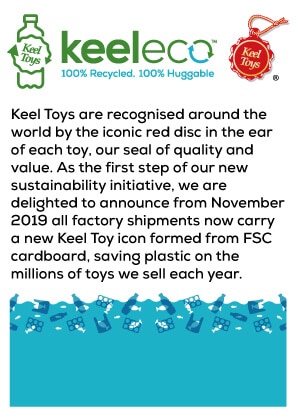 Make sure you check out That's Mine and their gorgous range of beautiful personalised embroidered baby gifts, and also lots of sustainable and ethical gifts on our website too!